Reading Time:

9

min
Updated: This post was recently updated after YouTube lowered its monetization requirements.
It's 2023, and to make money on YouTube, you must meet the YouTube monetization requirements (a.k.a YouTube partner program). This year, YouTube updated a few things on partner program policies that help to make more money for creators. And we will see that one by one down here.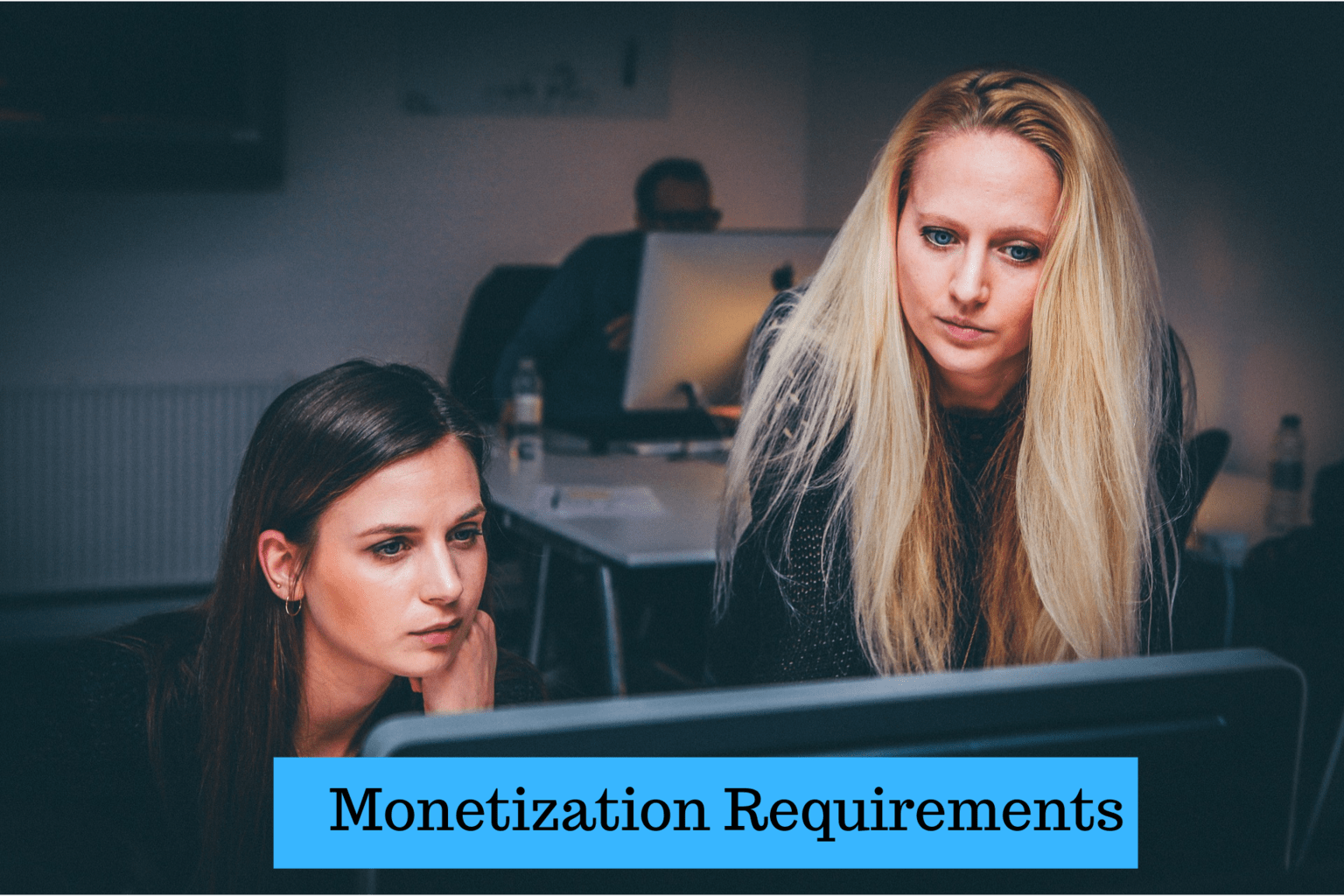 Whether you're starting a channel or an existing creator, the following new YPP (YouTube partner program) policies apply to all channels from February 1, 2023.
Generally, YouTube Adsense is the primary source of income for many creators. In addition, these updated new policies tend to increase the revenue of YouTube content creators.
YouTube Monetization Requirements in 2023
Before jumping into that, I want to let you know that YouTube offers around 10 ways to make money. Each takes different requirements to enable monetization.
Generally, you can categorize all these ways to make money in two ways, as Brand-Funded and Fan-Funded.
YouTube recently lowered its monetization requirements to,
Channel must have 500 Subscribers
3 Valid Public uploads in the last 90 days
(AND Either)
3000 valid public watch hours in the past year (or)
3M valid public Shorts Views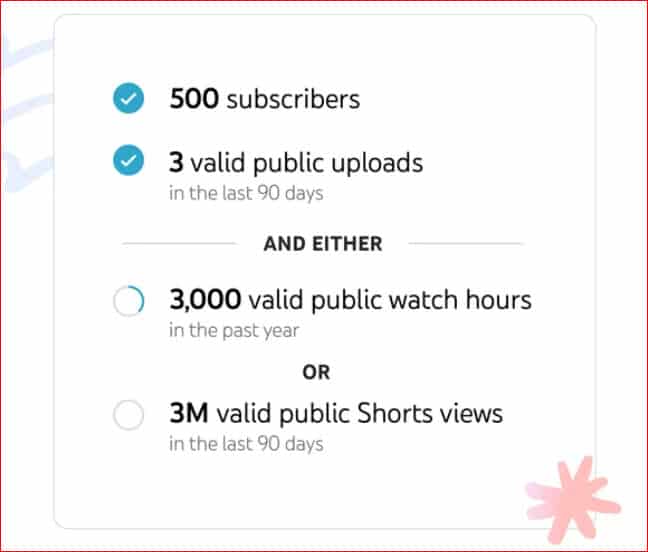 The above-mentioned eligible requirement is only for monetizing Fan-Funding. For example, Super Chat, Super Stickers, Super Thanks, Channel Memberships, YouTube Shopping Products. This is an opportunity for creators to earn money early from YouTube.
But, still, you need to meet the below requirements for AdSense Monetization.
Well, to enable AdSense monetization on the channel, you've to meet the following requirements,
Channel must have 1000 subscribers.
Required to have 4000 public watch hours in the last 12 months.
(or)
Channel must have 1000 subscribers.
Required to have 10M public Shorts Views in the last 90 days.
BOOM! YouTube unlocks the door for SHORTS creators to earn revenue from Adsense.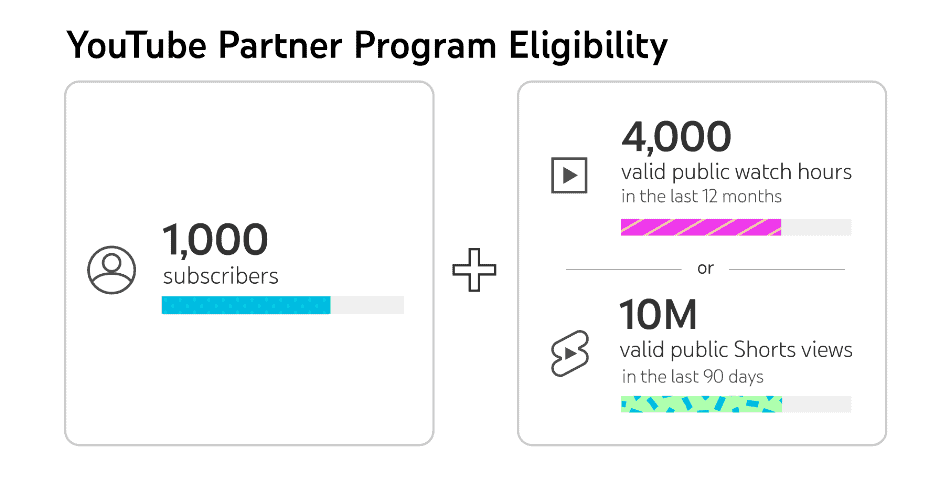 IMPORTANT: Watch hours from Shorts videos will not add or count along with 4000 public watch hours.
I have seen many creators only posting SHORTS videos on their channels, and some of the creator's channels get more views from SHORTS than long videos.
This new change from FEB 1, 2023, is JACKPOT for them! And they will see better revenue on their channel from March onwards.
---
Note: Sometime in 2023, YouTube will start eligible criteria for creators to access Fan Funding.
---
Fan Fundings are nothing but earning money from Fan's wallet directly through Super Sticker, Super Chat, Super Thanks, and Channel Membership.
As I said above, YouTube unlocks the opportunity to earn more revenue from Shorts videos. To learn more about YouTube Shorts, click here.
Moreover, you can easily create a Shorts video from your long-form videos with the help of TubeBuddy's Suggested AI Shorts option. This AI feature automatically picks up your video's engaging part and makes it short.
Here I want to add a few helpful industry tips to monetize your channel quickly.
Monetize YouTube Chanel Quickly: Best Practices
You can check your channel monetization eligibility under YouTube Studio > Monetization tab on the left-hand side.
For example, check out one of my channel results.
Ok, let's see some of the valuable tips,
1. Create Content for People's
I hope your channel's ultimate goal is to earn a sustainable income from it. But when you have that mindset while creating content, you will fail to satisfy the audience's needs.
That's where the channel growth leaps down. So, whatever your channel is about, your priority should be giving valuable content to creators. That's what YouTube, too, expects from creators.
When people love to watch your video, then the subscriber count, watch times, revenue, etc, are small stones to achieve.
2. Avoid Copyright Claims
To meet monetization requirements on YouTube, you need to have 0 community guidelines strikes.
Let me explain that a little more deeply.
When you use someone's content on your channel, they might ping you for a copyright claim. It means you're stealing that channel content.
YouTube highly recommends that creators to uploading their original content. But when you fail, you need to face some consequences.
Remember, when the channel gets three copyright strikes, it's over. YouTube will terminate that channel from the community.
However, here, many creators ask how I can handle my video background music or sound effects. Yes, that's a valid point, and not every creator are music director.
To handle those situations, you can use royalty-free music on your channel. Here I wrote the 29+ websites to find free music guide that helps to avoid copyright strikes on your YouTube channel.
3. Focus on Watch Hours
One essential requirement to monetize the channel is getting 4000 watch hours in the last 12 months. It means 2,40,000 minutes hardly.
The question is, how to achieve it?
Before answering that, there is a misconception among creators that the longer the videos you make, the better the rank you'll get, and it turns into significant watch hours.
That's not entirely true.
As I told you in point 1, YouTube wants to provide viewers with valuable content. Not on a time basis. Some content takes 1 hour to explain means, then it takes. On the other hand, other content takes 2 minutes to explain means, that's it.
On your video time, you're giving the useful source means; that's where the video will get more exposure.
So, creating longer-length videos will only help you achieve monetization requirements(4000 watch hours) if the content is valuable.
Technically, you can achieve 4000 watch hours in the last 12 months, but to maintain a decent figure in your Adsense account, you must keep 4000 watch hours in the last two weeks.
I know you feel like, "What? Are you kidding?"
To be honest, that's not the YPP requirements need. But if you're not gaining watch hours in the last two weeks (every cycle), your content needs to improve something even though you met YPP.
In such a case, you must concentrate more on creating good content. And it will automatically get your subscribers, views, revenue, etc.,
Ok, see some tips below to increase your watch time.
When you plan to make tutorial or explanation videos, try to split and make them into different episodes. Then, create playlists for it.
It makes the audience watch one video after another. And then drastically increase watch time, and your videos are only present on their YouTube suggestion page even more.
You must regularly monitor which video watch time is performing well and which is not.
But the pain here is, how can you check that?
Yes, YouTube Analytics is the best one to use. But on my channel, I use the tool called TubeBuddy, which is far better than Analytics, to provide me with a detailed report.
There is a feature called TubeBuddy Retention Analyzer report, which results in the percentage of audiences watching my video at specific durations like 0:10 seconds, 0:30 seconds, 1 minute, half-videos, and to the end of the video.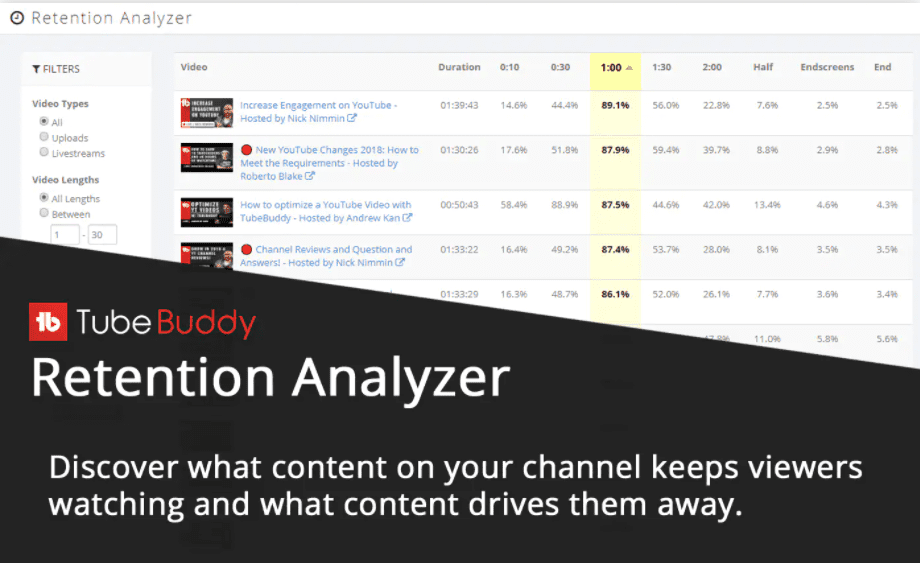 Let me take you to an example.
Consider one of your videos; the audiences call off immediately when they enter (the first 0-10 seconds). Your channel intro is boring them or anything like that.
In such a case, you must concentrate on your video intro and do the re-work for upcoming videos.
Also, on the other hand, the audiences watching the videos until the end means you can follow the same kind of template to upcoming videos to keep the audience throughout your video.
That's why the TubeBuddy analyzer report is helpful to have. For more information about this tool, read here.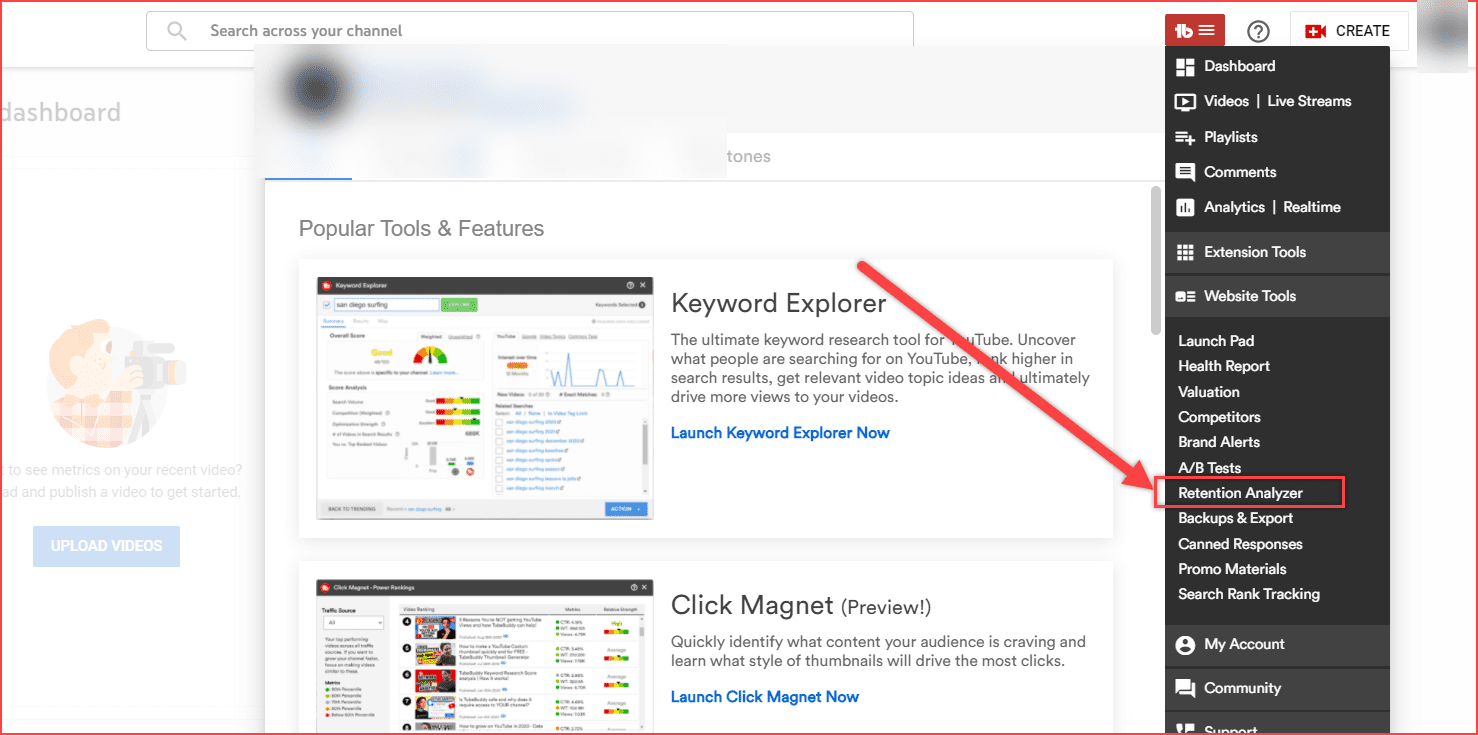 Add End Screen or Info Cards
It's always best to keep the audiences on YouTube, and it's even better to keep them on your channel for a long-time.
To accomplish that, You can add related end-screen videos at the end of the current playing video. This trick keeps the audience watching another video, another, and so on.
For example, take a look at this What If YouTube channel. I love to watch black hole mysteries.
So, when I watched this, What If a White Hole and Black Hole Collided? video, I got the end-screen suggested video as, "What If a Black Hole Entered Our Solar System?"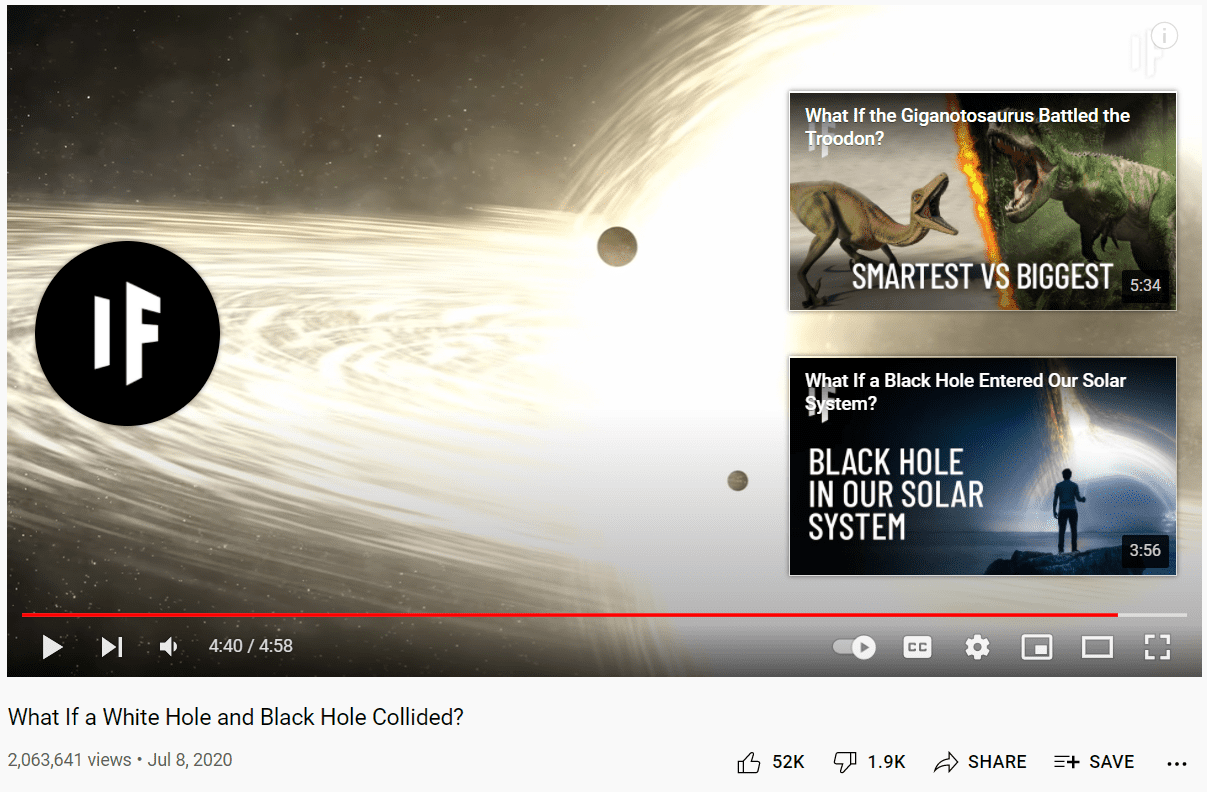 Did I miss it? Never.
That's why End Screen and Info cards are essential and pull more views/watch time to the videos.
Will you watch the video if it's different from what you're searching for?
I'm not, and I bet you too.
Audiences come out quickly when it's different from their topic. Also, they lose interest in the channel when the content is boring.
Fluffing the videos to increase watch time leads to a bad impression on the channel. Slow and steady with valuable content and reach the YouTube monetization requirements.
4. Follow YouTube Guidelines
In a nutshell, you need to make sure your channel meets YouTube policies and guidelines.
Well, this is not a one-time process. YouTube regularly checks your channel. If it crosses YouTube policies and guidelines, even after you earn some money from the YouTube partner program, you'll be out of it.
As YouTube states, human review and machine learning technology help monitor the channel guidelines.

5. Focus on YouTube Subscriber's
Does sharing your channel on another channel's comment section, social media, and family circle give you significant subscribers?
Nope!
For the sake of your face, they will subscribe to it. But it's not what you need.
You have to find your channel niche audiences. And I'm sure that the progress will take time. YouTube is not an overnight success business.
Subscribers are the ones who build and stay long with your channel. When you upload new videos, they will get the notifications first.
YouTube knows the pulse of the audience very clearly. Hence they come up with this 1000 subscribers threshold to monetize the channel.
There are different effective ways to increase subscriber count. Keep the target as 5000 subscribers instead of 1000.
This formula kicks you to work hard and achieve your goal earlier.
Lastly, let's see some frequently asked questions about YouTube partner program requirements.
FAQs of YouTube Monetization Requirements
1. Do the above conditions apply to all new channels?
Yes, the above conditions are required to meet all the new and existing channels.
2. How to apply for the YouTube Partner Program?
Once you reach the monetization requirements, YouTube will automatically review your channel. Moreover, YouTube assists both the automated system and human investigators in reviewing.

If you satisfy all the YouTube guidelines, you would consider a YouTube Partner Program (YPP) member.
3. Is the YouTube Partner Program available in all countries?
If you're in the following countries, you're welcome to join YPP,
Australia
Brazil
Belgium
Canada
Denmark
Germany
Iceland
India
Iraq
Italy
Indonesia
Jamaica
Japan
Kenya
Malaysia
Mexico
New Zealand
Netherlands
Russia
Singapore
Saudi Arabia
United Arab Emirates
South Africa
Thailand
United Kingdom
United States
And many more on the list. Kindly click here and see
4. What to do if YPP rejects your channel?
In case the channel is dismissed/rejected from YPP, then the reason is you may not follow up on any one or more monetization requirements and community guidelines on YouTube.

In the meantime, YouTube will give you an overview reason for it. But it's not pointing out which video or activity affects your channel.

However, you have got a chance to reapply for it after 30 days of rejection. Check out some of the FAQs on the channel rejection for monetization.
5. How long does it take to achieve YouTube monetization requirements?
It depends on how you're dealing with your channel. Some peoples achieve it within 30 days, and for a few, it takes a year. On average, it would take around 5 to 6 months of good time.
6. Will Private Video hours consider to be 4000 watch hours?
The answer is NO. Generally, YouTube considers only the public video views watch hours. So, it won't weigh the following video views count into 4000 watch time,

1) Private Videos
2) YouTube Shorts Videos
3) Advertisement Videos
4) Deleted Videos
5) And Lastly, Unlisted Videos
Conclusion
In conclusion, YouTube introduced a new way to make money from shorts, which brings more benefits for small creators.
A wide variety of opportunities is present to make some dollars on YouTube. All you need to do is, think about it, plan it, and finally roll up your sleeves to achieve it.
I understand that you may feel like reaching 1000 subs and 4000 hours of watch time on YouTube is a tricky mission to complete. But when you follow up and monitor the above things we discussed, you'll get the pass to enter the YouTube partner program room as soon as possible.
This YouTube monetization requirement article guides you to learn and explore new things for your YouTube journey. If so, leave a "Yes" in the comment section and share your thoughts.
Feel free to share this post with your friends.
Also Read,

Sharing is caring!